Adler University Community Action Day 2019
T shirts and promotional materials designed.
Storeys Cafe Renderings
John Gingrich and collaborator Hee Jun Ahn are currently contracted by the City of Richmond Public Art Program to create digitally printable mural designs for Storeys Cafe, a social enterprise that teaches people recovering from a addiction culinary skills. The designs include art generated by storeys members from five community engagement workshops that Hee Jun and John hosted. Participants were asked to envision and draw what a healthy community means to them.
Scheduled installation late April 2019.
Richmond BC
Base Space
The BASE Space is an after school youth support centre in Van Tech High School hosted by Frog Hollow Neighbourhood House. Youth leaders were mentored through designing and painting a mural that exemplifies the core values of anti bullying and connectedness of their group.
Vancouver, BC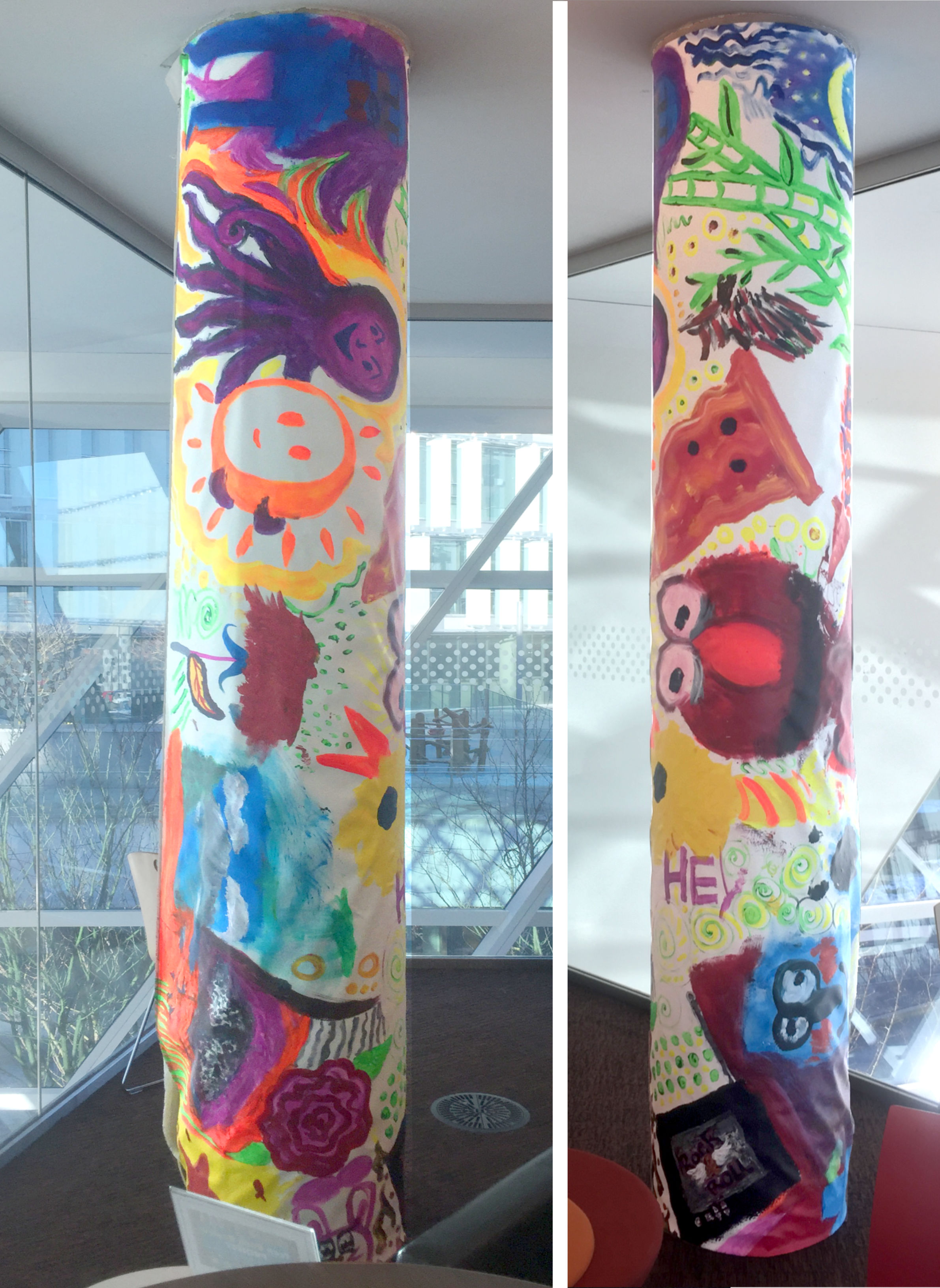 Teen Library Council
Painted by the members of Teen Library Council for their Teen Lounge, as a part of a workshop about mural painting hosted by myself in conjunction with the City of Surrey's Community Art Program
City Centre Library, Surrey BC
2019
Grooving Through the Fall
Recycled cups were collected and turned into multicoloured sculptures that were displayed at Frog Hollow's Operation Pumpkin Patch (OPP) harvest festival. Thank you to all youth from Make It who were involved with this project.
The sculptures are now on display at Drive Youth Employment Services, 2106 Commercial Drive, Vancouver BC.
2018
Mosaic Workshop
Mosaic workshop co facilitated with Frog Hollow Staff at Make It, a drop in art program for youth dealing with with mental health challenges.
2018
Lehman Family Reunion
Watercolor workshop conducted with youth ages 4-22
We first each painted our own mountain scene, then engaged in free art time.
2017
Paint and Sip Studio Owings Mills
Conducted paint and sip events with community members, based on original artwork designed by myself.
Baltimore, MD
2017
Community